About Us
Akshar Molecules & Akshar Molecules Inc.
are
leading Nutraceutical companies in the nation that strictly adheres to its commitment of serving safe and quality Nutraceutical products such as
Soft Gelatin, Syrups,Tablets, Capsules, Sachets,
and more. Our health bettering products have long shelf life, are economical priced, quality packed packaging, extremely effective and precisely composed. Akshar Molecules Group of Companies is engaged in this industry to not only offer products but also contract manufacturing.
Pursuant to our philosophy of continuous improvement through researches, we, as a
manufacturer,
have been consistently striving to bring best to the table in terms of processes, methods and techniques with the help of which we can do wonders in the society and eradicate diseases without any harm made to anyone.
Carving an excellent niche in the Indian market, we have expanded our business. This being the reason; we have achieved high growth in the industry. Delivering top quality products at reasonable rates is our main motto for which our people even go an extra mile. Our future plan is to introduce a modern pharmaceuticals unit.


Quality Assurance

We consistently work for balancing the demands of customers, doctors and patients with both quality and quantity. With our available resources and other facilities, we are capable of conducting researches before beginning the composition of any product for ensuring its quality. Moreover, we aim to improve our methods of production so that faster heeling of diseases and injuries can be done. It is the dedication and efforts of our team that has led us to be the leading Company in the industry. All Protocols as well as WHO GMP norms are followed for quality production. Our quality keeping team conducts test on every lot of produced range to ensure composition, purity and packaging.


Our Certifications/Awards and Achievements
We have following certificates and awards:

WHO GMP
HACCP

ISO
FSSAI
Business Excellence Award

Our Infrastructure
In helping, Akshar Molecules Group Of Companies stands tall on all grounds, be it quality production, stocking of products or swift delivery service, is our robust, developed and modern infrastructure. We have three production units and warehouses in Barhi, Haryana (India). Latest machines like Drawing Section, Blister Machines, AHUS & DHUS, etc., are installed in our production house for quality work. Quality manufacturing, quality control, research and packaging work is done in our unit by our expert team.

Our Team
Having support of best experts from the industry is good for companies, which have plans of serving in the long run. We feel extremely happy and proud to have such experts who hold great knowledge of this field. Our growing team of experts is helping us produce and deliver not only quality, but quantity. To ensure every process is conduced hassle freely, we have with us quality checkers, researchers, etc.

Why Choose Us?
Our company is known for variety of Nutraceuticals (Food Supplements & Ayurvedic (Herbals). Apart from offering high quality products, our company gives several reasons to our clients for associating with us. Some of which are cited below :
On-time Delivery: Being in the healthcare industry, we understand that each and every minute counts, therefore, we make timely deliveries.
Client-centric Approach: Satisfying our customers in every manner is our main motive and for this, we keep striving.
Safe Products: Each product is tested before selling it in the market. Our products do not harm any person unless one has allergy from the composition used to make the medicine.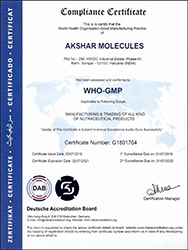 Read More